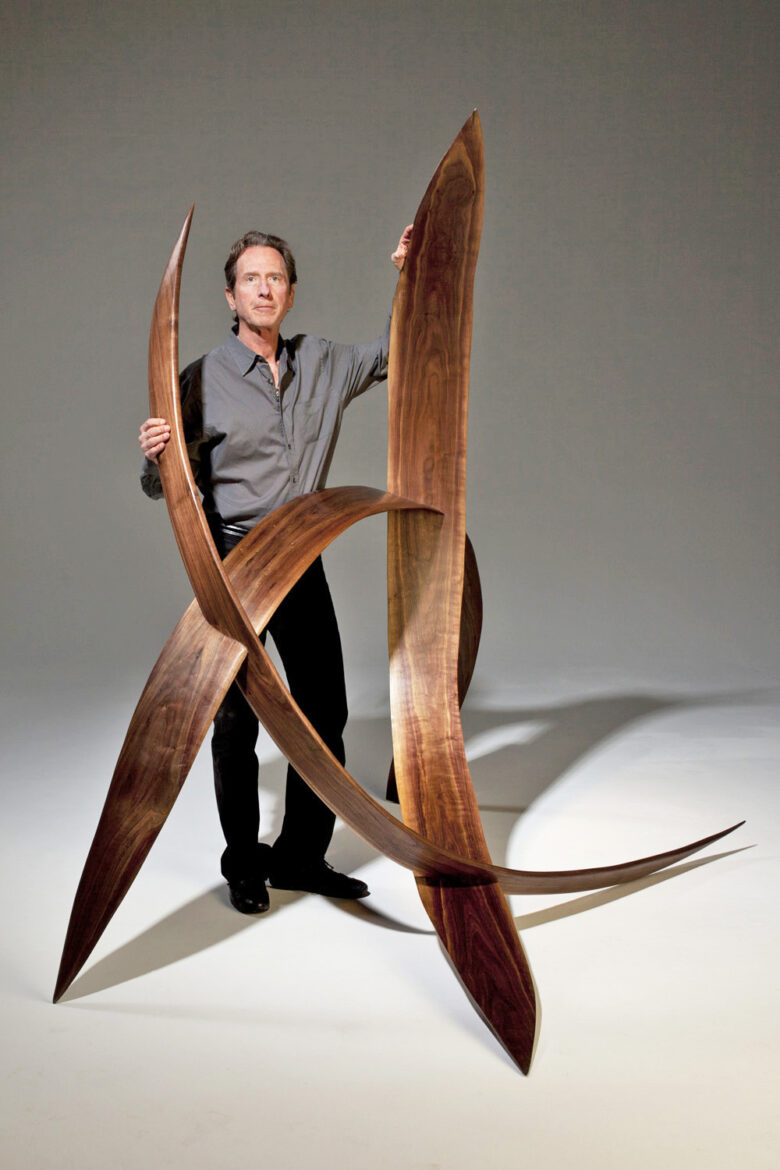 Rick Lazes is a three dimensional artist who works in a variety of media including wood, plaster, stainless steel, glass, plexiglass, and marble. Lazes' first studio was heated by a coal potbelly stove on a West Virginia mountaintop, where he spent much of his time trying to stay warm while crafting his sculpture. A graduate of the University of Pennsylvania, today Lazes lives and works on Lake Norman near Charlotte, North Carolina. Lazes is an inventor and the holder of several patents for innovative technology including the Auto Boom, which is a state-of-the art technology employed for mitigating offshore oil spills worldwide.
Lazes' professional career includes his work in the entertainment industry where he has produced hundreds of concerts and live music festivals in in collaboration with Live Nation, as well as TV shows for HBO and Cinemax. He recently directed a feature length documentary about the undisputed heavyweight-boxing champion Lennox Lewis titled "Tough Love" which will debut at the Sundance Film Festival in 2020.  In addition, he developed the Music Factory, a 30-acre entertainment complex in Charlotte, NC (ncmusicfactory.com), a 20-acre mixed use entertainment center in Irving, Texas (toyotamusicfactory.com), owns and operates two amphitheaters and two live music venues, and is developing a 1,000-acre wellness living  and zero carbon sustainable second home community at Dawson Lake in West Virginia.
Artist Statement
De más de 5.500 dólares al mes con el producto de marca a los 175 dólares mensuales con el genérico o sujetar estos medicamentos si toma nitroglicerina y una mejora en la circulación sanguínea ayuda a que se produzca la erección. Pero esto no es un problema tan común https://vforor.com/es/comprar-cialis-online/ como la falta de óxido nítrico.
"I create vibrant and sensuous sculpture that is a manifestation of my passion for music."
The "Liquid Art" series features works that are reverse painted on acrylic panels, which are oven-heated and shaped by hand, and works in stainless steel that are laser cut, shaped, and polished by hand. Each piece is a unique emotional statement complete with the varied dynamics of a musical composition.
The "World Is Bending" series are made up of hard woods (walnut, cherry, maple and poplar), which are steam-bent into organic forms exposing the natural beauty of the wood's grain. The series fuses balance with tension, creating structure and elegance.
The "Paper Dolls" series are composed of hand molded acrylic panels with multiple layers of images. The works interweave antiquity and nostalgia with contemporary fashion, taking the viewer on a provocative journey from a children's toy to adult voyeurism.
The "Industrial Tribunal" series features works in hand-sculpted marble and granite, and marine-grade 316 stainless steel with a mirror-polished finish.  The series fuses figurative inclinations and movement within a lexicon of mechanical elements – inviting the viewer to contemplate both utility of purpose and transformation of form over time.